18 KC-135s Line Up at MacDill, as USAF's Surge in Elephant Walks Continues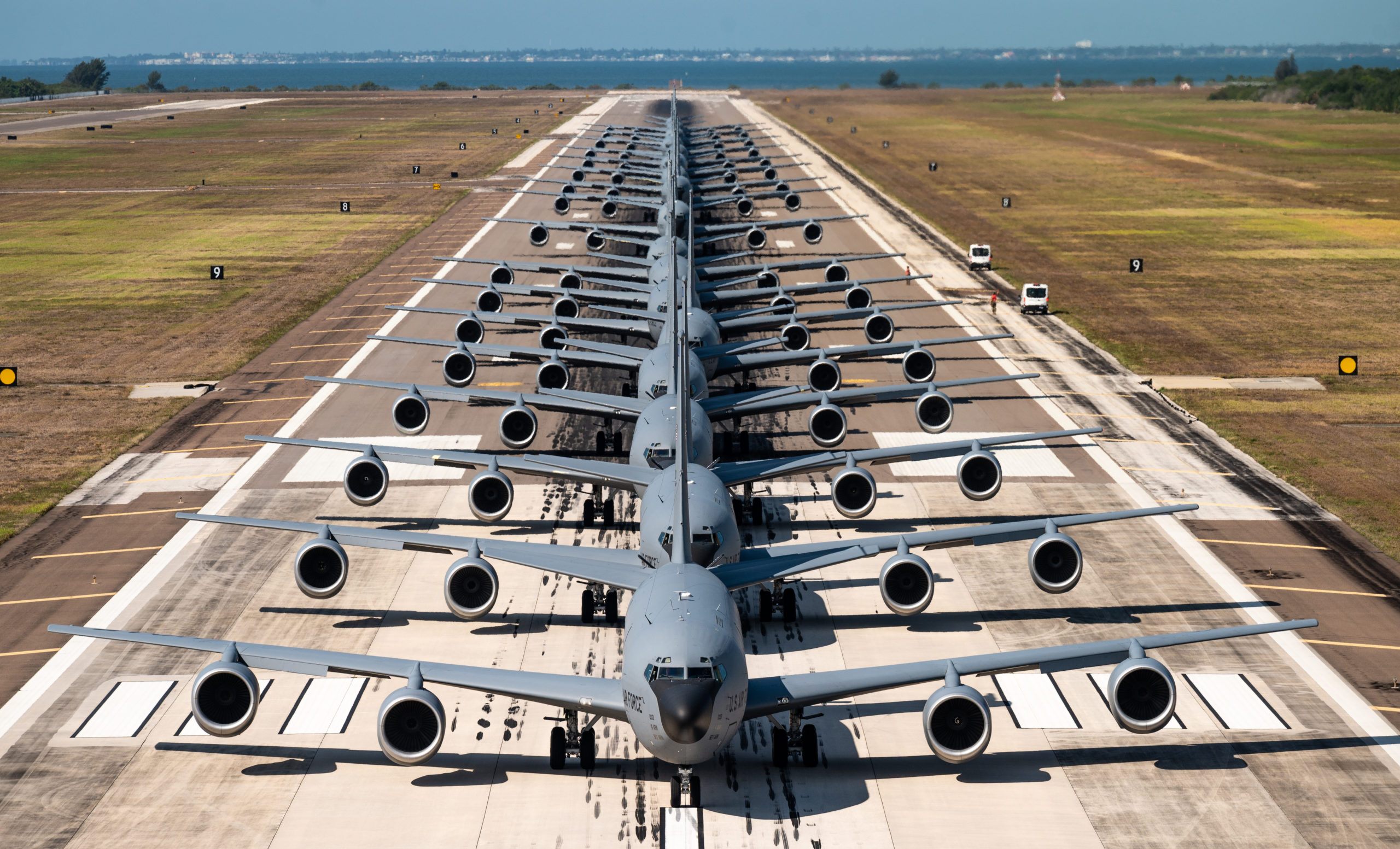 Unfold out over greater than half a mile, 18 KC-135 Stratotankers lined up on the runway at MacDill Air Power Base, Fla., on April 26—the sixth Air Power elephant nationwide prior to now six weeks. 
The occasion was a part of MacDill's Operation Violent Storm, an train designed to power models to work collectively to quickly mobilize the fleet. Greater than 700 Airmen contributed to prepared the KC-135s in lower than six hours. 
"What Operation Violent Storm showcases is our capacity to, in speedy succession, present airpower for America," stated Col. Adam Bingham, sixth Air Refueling Wing commander, in an announcement. "We're in a position to put booms within the air that gas America's strategic fighters and bombers who will in the end be delivering hope and projecting violence at a time that America actually wants it." 
The operation was the sixth Air Refueling Wing's first large-scale elephant stroll since 2016, in accordance with a launch. Airmen from the 927th Air Refueling Wing, the sixth ARW's Reserve affiliate unit, additionally participated, as did U.S. Military UH-60 Black Hawks assigned to the fifth Battalion. 
The MacDill occasion is the most recent in a surge of "elephant walks" throughout the Air Power in latest weeks, all at totally different bases: 
Seven E-3 Sentry airborne warning and management, or AWACS, plane lining up for a "climate flush" on March 21 at Tinker Air Power Base, Okla. 
20 mobility plane—seven KC-135 Stratotankers, eight C-17 Globemaster IIIs, and 5 KC-46 Pegasus—additionally participated in a extreme climate train March 24 at Altus Air Power Base, Okla. 
21 tankers—16 KC-46s and 5 KC-135s—lined up as a part of an Agile Fight Employment train at McConnell Air Power Base, Kan., additionally on March 24. 
4,000 Airmen and 80 coach plane gathered on the runway at Sheppard Air Power Base, Texas, on April 7, to showcase the facility of its individuals in addition to its planes. 
49 plane—40 F-16 fighters and 9 MQ-9 drones—confirmed off the airpower at Holloman Air Power Base, N.M. on April 21. 
Violent Storm was among the many largest KC-135 elephant walks in reminiscence—20 Stratotankers took off from Fairchild Air Power Base, Wash., in September 2021, whereas different tanker energy shows are usually smaller, as with 12 at RAF Mildenhall and 14 at McConnell Air Power Base.